Kiasma takes part in TransMEA and Egyptian-Italian Dialogue
Kiasma Group, with the patronage of ICE – Italian Trade & Investment Agency in Cairo – and the Italian Embassy – Cairo, took part in TransMEA, Cairo, last month.
TransMEA is a trade fair and conference bringing together leaders, innovators, influencers and visionaries of the transport and logistics sectors in which the major experts in the field and decision makers are involved.
"When a material seems to have given its best, the biggest challenge for Kiasma has always been of looking for and finding the next generation of materials," the Italian giant specialized in the dredging, marine and oil sectors said in their latest release.
Thanks to this unceasing research, the KNN33_4.0® System (Thermoplastic Elastomeric TP-E) was born.
At the event, Kiasma presented to the Government authorities and private companies the KNN33_4.0® System Technology, applied to discharge lines for dredging, mining and oil sectors.
Kiasma photo
Egyptian-Italian Dialogue
Kiasma Group, invited by the Italian Embassy in Cairo, also participated in the Second Preparatory Meeting for the Third Edition of the Egyptian-Italian Dialogue on Maritime Sector, attended by representatives of Italian and Egyptian Governments.
During the meeting, the officials discussed maritime port issues in order to strengthen the existing relationships between the two countries.
Kiasma's Export Sales Manager, Daniele Artuso, drew attention to the obstacle of sediments, their geology and mineralogy, present in the Primary Navigable Routes, Ports and Lagoons unwinding from Cairo to the Nile delta in the Mediterranean Sea.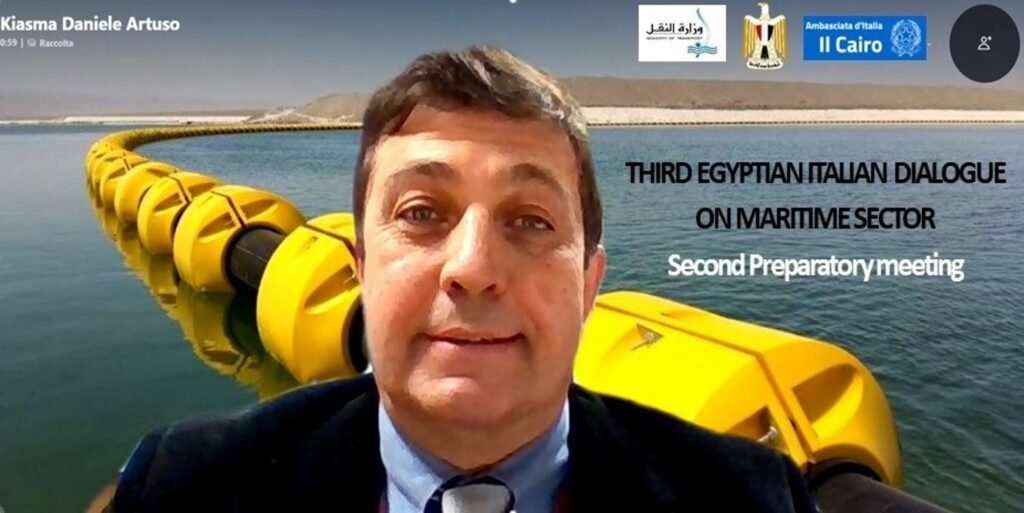 He also underlined that, for the amount of millions of cubic meters to be dredged in the next few years, it is useful and necessary to use innovative technologies such as the KNN33_4.0® System – used in the floating discharge pipelines.
The system makes it possible to consider discharge lines as "assets" and not as "commodities".
With the technology of the KNN33_4.0® System, the Government will benefit from the best technical-economic result against important investments in which it will be constantly engaged for the coming years.
December 9, 2020, by Eldin Ganic (Dredging Today)
Kiasma takes part in TransMEA and Egyptian-Italian Dialogue – Dredging Today